---
System is getting more and more difficult to use, but optimizing the system is at a high cost......

None is in charge of system maintenance after impletion......

Hire engineers for system implementation but there's less work after implementation and company still has to pay the salary......

New idea of system comes up but no engineers is able to realize it......

During the impact of COVID-19, the epidemic hits all walks of life. The downturn of economy is not as good as expected so that enterprises need to save money but operation can't go without engineers......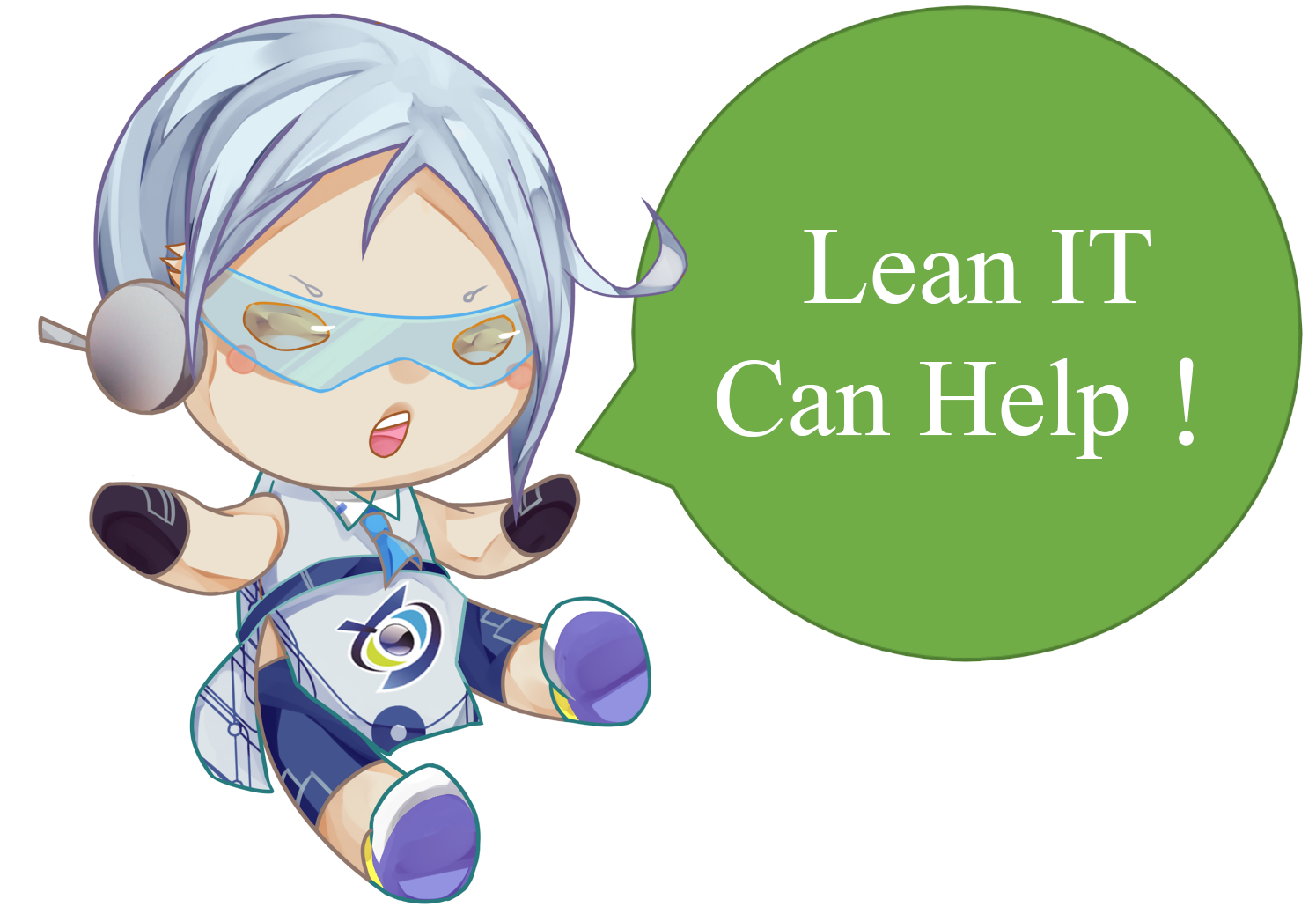 ---
What is Lean IT?
  Lean IT is a new solution provided by FS-Tech. The service is to quickly build an IT team for client with the most streamlined human cost. The work content includes all IT and smart manufacturing related projects: personnel/labor, IT infrastructure, smart manufacturing system evaluation, smart manufacturing system building...etc.
  This solution aims to provide the smart manufacturing resources and backing required by enterprises under high competition envirnment, which is to plan and implement smart projects for each stage of the factory steadily and rapidly.
That is, clients can obtain the resources and meet the requirements of production as well as achieve the biggest benefits of smart manufacturing at all stagesbat the most streamlined cost.
The Scope of Lean IT?
Lean IT Solution can be divided into 3 parts which shown as below:
  Industrial System Update
  Blue Print of Smart Manufactoring and System Integration
  System Operation/Maintenance Outsourcing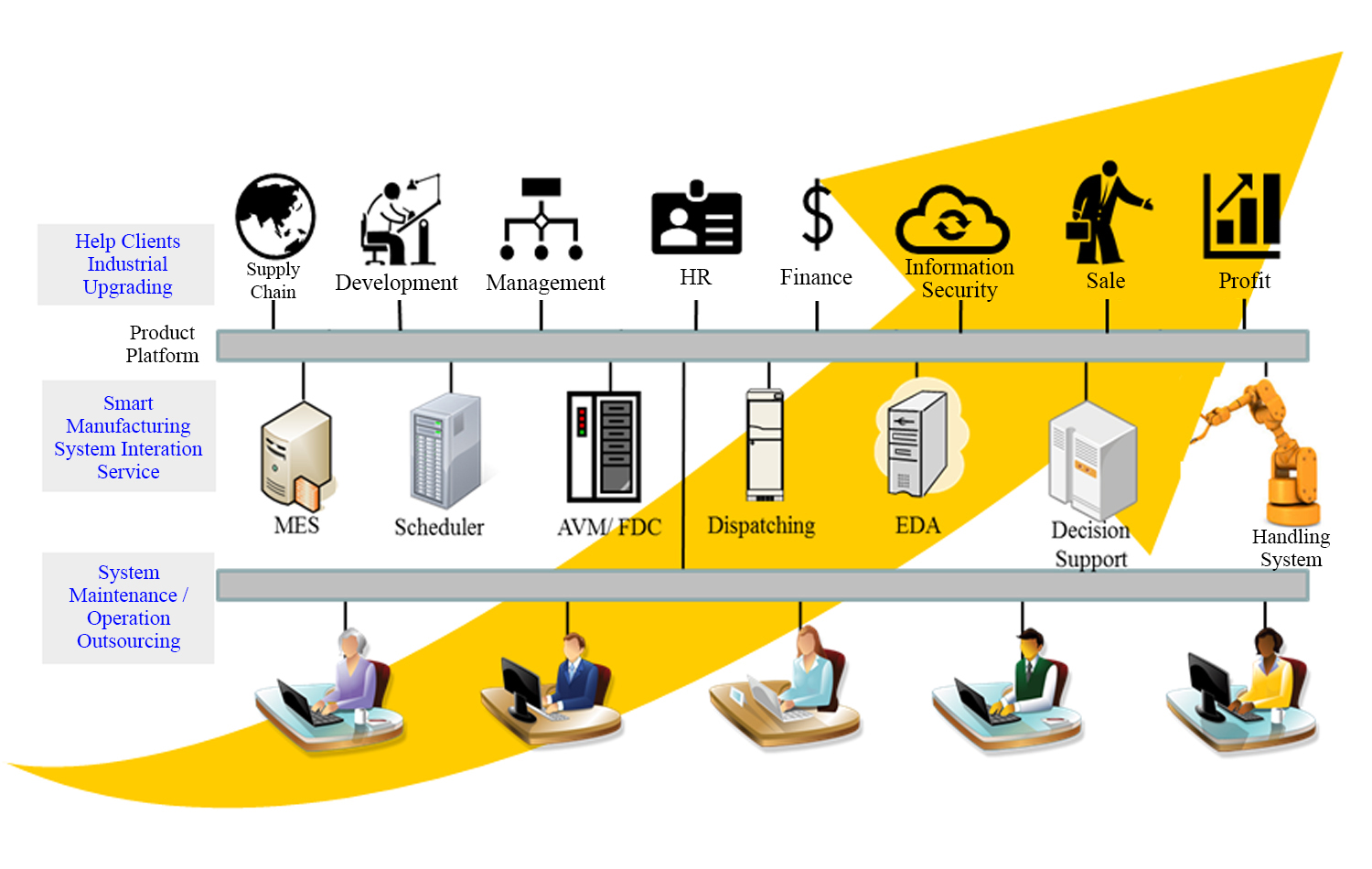 FS-Tech's Lean IT solution combined 3 parts above and seperated into 2 service: System Customize and System Operation/Maintenance Outsourcing.
 System Customize service includes the development of various systems according to client needs, as well as the refurbishment and re-engraving of old systems.
FS-Tech has rich experience in data processing and system development, which can help our clients developing integrated systems to meet client needs and solve the system problems with poor performance, function expansion difficulties as well as maintenance of the old system in the factory.
Also, FS-Tech is able to refurbish and rewrite, improve system performance and expand functions for easy use.
 Through the customized system processing, client's operation time and other operating costs can be greatly saved.
FS-Tech now currently provides the following types of system developing, reproduction and refurbishment:
 1. Internet Infrastructure
 2. Mail Server
 3. Communication / Conference equipment / Cost-saving telephone
 4. Website
 5. Information Security
 6. Data Collection (Smart Box)
 7. Report System
 8. FDC System
 9. SPC System
 10. Attendance Management System
 11. Financial/Accounting System
 12. SOP Approval System
 13. Quotation System
 14. Material / Supply Chain Management System
With the advent of the 5G era, many SMEs(Small and Medium Enterprise) are facing comprehensive IT problems:
 1. As the branches increase, operation and maintenance costs as well as management difficulty increases.
 2. Limited IT staff.
 3. Increased cost pressure on employee recruitment

In this regard, FS-Tech's Lean IT solution provides utsourcing and maintenance services for all systems to help clients reduce the impact of the new era.
As far, FS-Tech's outsourcing services are shown as below:
 1. System Maintenance Service: Includes system maintenance services, application installation and maintenance as well as anti-virus system management...etc.
 2. System Equipment Repairment: Includes equipment installation, replacement of consumables and hardware or peripheral equipment that fails for any reason.
 3. Software/Hardware Equipment Procurement: Includes professional consulting of software/hardware equipment planning, procurement services and management.
 4. Remote Connection service: Provides remote connection for maintenance and troubleshooting of systems.
 5. On-Site Supporting Service:
  (a) Includes 4hr/week on-site maintenance and support
  (b) Over 4hrs and still need on-site support, there will be traffic fees to be charged
 6. Information Equipment Migration, Adding and Changing: Includes information equioment's migration, equipment configuration adding or changing installation.

User Benefit
Father of modern management Peter F. Drucker had a said,"A company should be engaged in only the front room activities that are critical to support its core business. Bavk room activities should be handed over to other companies, for whom these tasks are the front room activities."——when enterprises encounter IT problems, they should consider outsourcing the IT works and which earns them the benefits shown as below

  Save the time and cost which would be originally spent on IT works and make the most of resources for enhancing ROA and ROI
  Save all the cost of recruiting engineers, such as labor health insurance, overtime, pensions, education and training, lunchtime and annual leave, which reduces the rate of expenses and the impact of IT staff turnover.
  One-stop service, which reduces time and cost of window docking and improves enterprise competitiveness.
  Refurbish and optimize old systems, which significantly reduces personnel operation time and costs.
  The evaluation of the old system maintenance and the new system implementation are carried out by a professional team with more comprehensive perspective, which improves works efficiency of the enterprise.  
Comparison of
Current Status in Factory
&
After the Implementation of
Lean IT
Current Status in Factory
After the Implementation of Lean IT
Speed of AI Team Up
Recruit from scratch, time consuming and staff is possibly leaving in the midway
IT personnel from FS-Tech immediately ready to team up
Cost of AI Team Up
1. New recruits: Salaries, all the expenses of labor health insurance, pensions, annual-leaving...etc. If the Team Up is for specific project, staff salaries will still be paid even the project ends
2. Existing personnel: Employees have a heavy burden and the time of their original work will be compressed, which results in a decline in the quality of work
Only the cost of outsourcing, which reduces 80% of HR costs
Stability of IT staff
(Training / Promotion / Remain in the position)
Floating, personnel management costs and turnover impact are all absorbed by enterprise itself
Stable, personnel management costs and turnover impact are all absorbed by FS-Tech
Old System Maintenance and Upgrade
If there's no engineer, and that will need to call system supplier for service. Even there are factory's own engineers, it'll take laong time to do the work due to the limited time
One-stop service provided by FS-Tech
New Technics/System Implement
Limited by the lack of relevant knowledge and ability, the time and cost of obtaining information are quite high which system may not be available at the most appropriate price
---