Fault Detection & Classification(FDC Lite)
---
Brief Introduction
FDC Lite provides real-time monitoring on the collected process data and univariate as well as multivariate analysis according to process status and requirement so as to reduce the users' burden of comprehensive monitoring.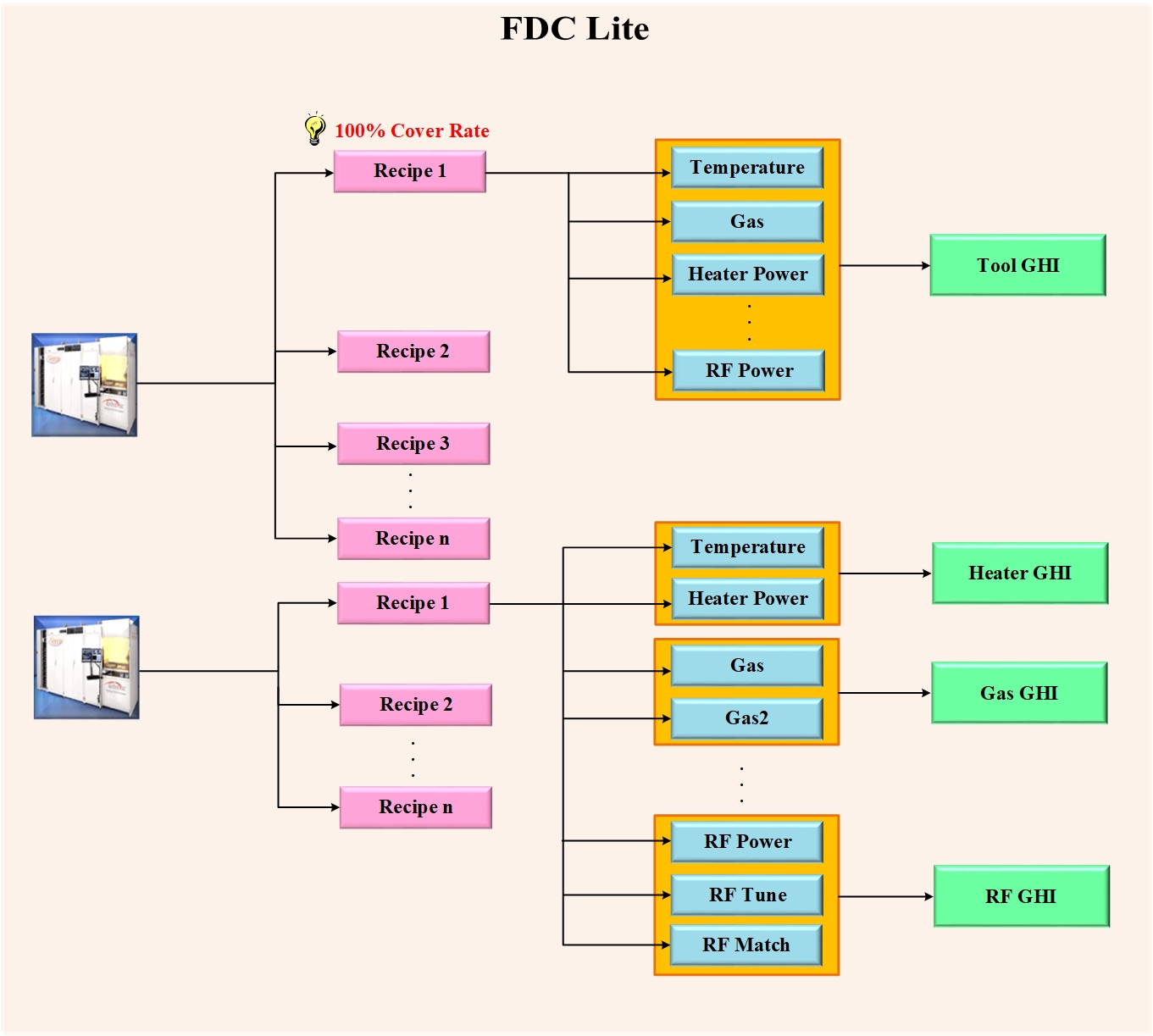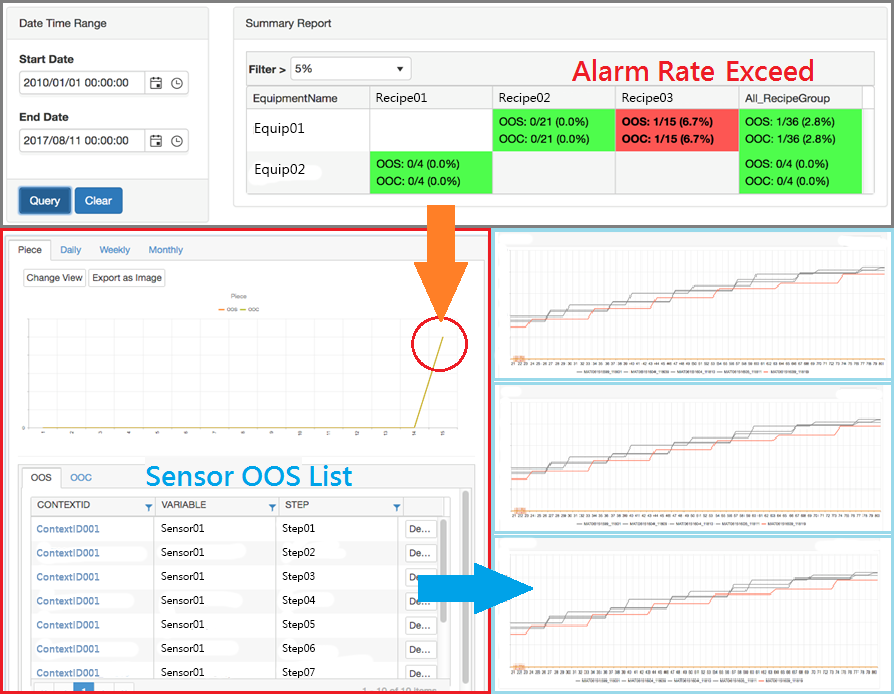 ---
New Features and Functions in R2020a
Function
Principle
Benefits for USER
Parameter Alarm Summary
The optimization of the parameter abnormal integration page. The page was originally take piece as a unit to see whether abnormal or not, now user can directly check tool's status by set parameters.
Develop the infterface for operator, new page shorten the time of staff on the first line to query and record every abnormal.
---
AI Functions
| Function | Principle | Benefits for USER |
| --- | --- | --- |
| Import/Export Excel Rule | Support user to fill in the Excel form with the indicators, steps and specifications to be monitored. System can directly read the Excel spreadsheet to complete the monitoring settings. | Accelerate the terms of specification setting and reduce users' burden. |
| Optimization of Rule Simulation | By setting another original data set and monitor specifications, users can monitor the simulation offline to find the best fit of featuring and specifications set. | Provide offline analysis platform to quickly find monitoring specifications. |
| New Process Featuring Rule: Similar | Strengthen identifying the similarity of the parameters as well as timing waveform and provides value as feedback,which informs users the variation of parameters. | Data in Set Range is Processed by its Physical Meaning to Reduce/Decrease False Alarm and Signal-to-Noise Ratios. |
---
AI Functions
Function
Principle
Benefits for USER
100% Monitor Cover Rate with Realtime Notice Llights and Monitoring Important Parameters of Equipment in Realtime
1. When there's new production detected, System will monitor the sensors based on the setting of General Rule Automatically.
2. Specific tool/recipe "Alarm Rate" setting. When alarm rate exceed the standard, tool/recipe will be marked in red for convenient management.
3. Provide OOS sensor list of each piece/run. One click to check temporal data of front 3 pieces which helps engineer find root cause of defect quickly.
Significantly Decrease the Monitor Burden
FDC Rule Management
EQP Rule Comparison and Export
USER could set Monitor Rule based on Process, FDC Lite provides not only 8 common rule in Industry but Fourier transform, PAR, PAPR…etc.
1. Rule: Max / Min / Average / Std / Range / Slope / Counter / Accumulation / Mode / Fourier transform / PAR(Peak-to-Average Ratio) / PAPR(Peak-to-Average Power Ratio)
2. Perform sensor spec setting(By Manual, Sigma, Percentage) and data quality filter.
Data in Set Range is Processed by its Physical Meaning to Reduce/Decrease False Alarm and Signal-to-Noise Ratio
Data Noise Filtering
User could set the range of noise which needs to be filtered then System will process this range of data in ways of delete, replace with other values or other way set by user.
Auto Daily Report
System will send daily report automatically and alarm when tool abnormal to inform engineers that they need to take action.
Avoid Continuous Defective Production
Report Inquire
Classify data by time period, tool type, recipe and provide OOS/OOC statistic chart(by piece, daily, weekly, monthly).
Significantly Decrease the Monitor Burden
Tool Metastable State Monitor
System automatically separate the Stable State and Metastable State. User could set each state's rule for featuring the data.
Reduce False Alarm
Single/Multi-Module GHI, GHIb Index and Sensor Group Monitor
1. User could set the sensors with same spec into one group and choose the Golden Data as samples for building the Multivariate Analysis Model.
2. System automatically choose the recent pieces' data as samples for Multivariate Analysis and New-In data's comparison.
3. Export the comparison results as GHI Index (Global Health Index) to help User checking the unshown problems(such as low quality of products).
Easier for User to Manage the Rule Settings and Quickly Check Hidden Problems
Rule Simulation
Simulate the status of Rule setting to check the applicability of Rule.
Avoid the False Alarm Caused by Inappropriate Rule Setting
Factory Integration Pages and "Warning" Category
Enable User to view all situation of whole plant in real time. The information of insufficient data collection will be classified to "Warning" and stored for reference.
Convenient for User to conduct real-time plant monitoring and the the "Warning" classification will not be notified which could reduce non-critical query
---
Applications

TFT LCD Process
MOCVD Process
---